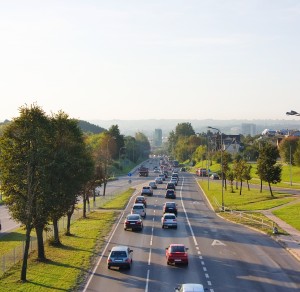 You are able to deduct standard mileage rates for operating an automobile for business, charitable, medical, or moving expense purposes.
Beginning on Jan. 1, 2012, the standard mileage rates for the use of a car (also vans, pickups or panel trucks) will be:
55.5 cents per mile for business miles driven
23 cents per mile driven for medical or moving purposes
14 cents per mile driven in service of charitable organizations
The rate for business miles driven is unchanged from the mid-year adjustment that became effective on July 1, 2011. The medical and moving rate has been reduced by 0.5 cents per mile.
The IRS may require of proof of your log.   This includes the date of travel, name of person driving (if more than one user of the vehicle), destination and the odometer reading at the start and finish of the trip.  You should keep your logs for 3 years in case of an audit. Driving to your first customer and home from your last customer are NOT included in your log.
Here is a link to a free mileage log.