Four reasons by housing is still not a good investment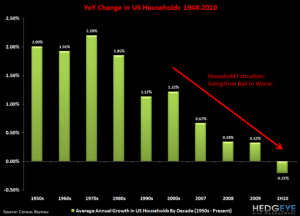 A number of notable investors presented thoughtful and well-researched ideas at the Value Investing Congress last month. The one idea that we would take the other side of, though, was one from Bill Ackman of Pershing Square Capital, which was unveiled in a presentation titled "How To Make a Fortune": to go long U.S. housing. To state it bluntly, we think Ackman is wrong on housing.
According to several reports, his thesis on U.S. housing focuses on a few key points. First, affordability is at its highest level in decades due to low mortgage rates. Second, household formation will rebound and go back to long-term trends, which suggest growth in demand. Third, supply of housing, which Ackman admits is high, will start to decline since builder production rates are as low as they have ever been. Finally, he believes the downside in housing is limited because at a certain price, institutions could step in and soak up the excess inventory.