1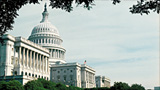 On Tuesday, the Democratic chairmen of the House and Senate tax committees teamed with those committees' top Republican members to tell the IRS they are working on a bill to provide taxpayers with temporary relief from the Alternative Minimum Tax.
They advised the agency to "take all steps necessary" to adjust tax forms to reflect the anticipated changes.
"We will work to craft the AMT provision so that, in the aggregate, not one additional taxpayer faces higher taxes in 2010 due to the onerous AMT," the lawmakers wrote in a letter to IRS Commissioner Douglas Shulman.
Putting a temporary "patch" on the AMT to shield middle- and upper-middle-class taxpayers has become an annual event for Congress, although lawmakers have left this year's fix to the last minute.