Wish I had this problem…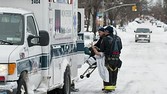 The provision itself is simple–at least as tax rules go. It allows a taxpayer who is 70½ or older to contribute a total of $100,000 in IRA assets to one or more qualified charities. The payout can satisfy the required minimal distribution. The donor gets no deduction, but neither does he or she have to report the payouts as income.
That last point is key: If the donor had to claim the payout as income and then deduct it, there could be problems. The deduction itself could be limited because of other tax rules, or else the donation might swell the donor's reported income, possibly raising Medicare premiums or taxes on Social Security payments. Instead, the donation bypasses tax calculations altogether.