1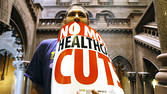 Senate Finance Committee Chairman Max Baucus (D., Mont.) plans to propose renewing a slate of tax breaks that have expired or are about to expire, Senate Democratic aides said.
Included are popular items such as a measure protecting millions of middle-class taxpayers from the alternative minimum tax, as well as a college-tuition tax break. The proposal also includes dozens of corporate-tax reductions benefiting specific industries and companies.
via Routine Extension of Tax Breaks Poses Test of Deficit-Cutting Resolve – WSJ.com.