1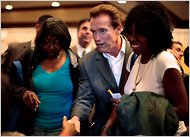 That is the question investors are asking after munis — those old faithfuls of investing — took their biggest hit since the financial collapse of 2008.
Concern over the increasingly strained finances of states and cities and a growing backlog of new bonds for sale overwhelmed the market last week. After performing so well for so long, munis and funds that invest in them fell hard. One big muni fund, the Pimco Municipal Income Fund II, for instance, lost 7.5 percent. The fund is still up 6.75 percent so far this year.
While the declines were relatively small given the remarkable gains in these bonds over the last two years, the slump was swift enough to leave investors wondering if this was a brief setback or the start of something worse. For months, some on Wall Street have warned that indebted states and cities might face a crisis akin to the one that brought Greece to its knees.
"I think it's too early to say that it's more than a correction," said Richard A. Ciccarone, the chief research officer of McDonnell Investment Management.
via Municipal Bonds Falter After a Long Winning Streak – NYTimes.com.