Bite the Bullet?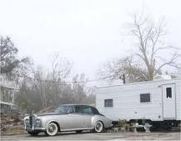 I remember the night as though it was yesterday. I was in Vegas… At Caesar's…. I walked up to the slots in the far corner of the casino. I had changed a hundred in quarters (yes, they were still using actual coins then). I was playing 5 coins a pull. A few spins, and nothing…. And then – lights, bells, and excitement… I hit the jackpot…. 10,000 coin payout ($2,500 in cash)…. I was overwhelmed with excitement. But then I had a realization…
It wasn't the taxes
I realize that would be the conclusion in this forum… But taxes were the furthest from my mind. See I was 18 then. And besides attracting a ton of attention, the high jackpot hits come with a visit from the casino staff. They need to issue a W-2 on the spot. But again… Taxes were the furthest from my mind.
I'd like to say I walked out with the cash… But all they handed me was my 5 quarters back from the winning pull. Lesson learned.
Hindsight
I've rarely had the good fortune of a huge payout at the casinos since that day. I'm also more apt to frequent the blackjack and poker tables now a days. But what happens? What can we do when we hit the big jackpot? Several things. Let's go through a few scenarios.
You won $5,000
Nice… Depending on where you're gambling they may withhold Federal taxes on the spot. Someone with a $75,000 income won't be horribly effected by this type of windfall. If you're already itemizing remember that you can deduct gambling losses up to the extent of winning. I'd figure about a $1,200 Federal tax hit without gambling losses (the State will depend on where you reside). In Massachusetts, 5 cents on the dollar is fair. States like Massachusetts don't allow you to deduct gambling losses (only the price of the winning ticket), so you will face the tax blow here.
You Won $50,000
This is a slightly different playing field. Clients don't generally have $50,000 in gambling write offs so it presents a predicament. This will nudge you into another bracket most likely. Probably fair to say about $13,000 in Federal taxes before write offs. The $75,000 baseline income is going to be severely jarred by this increase in income. Odds are that income will not be this high again in the next five years. That makes this is a prime year to allocate offsets and deductions. Several approaches…
Track your gambling. See accepted logging methods later in this article.
Dump a loser – no not the relationship type… If you have stocks with built in losses unload enough to have a $3,000 overall loss. This will help lower the brunt of the tax blow in this uniquely high marginal tax rate.
401(k)/IRA's – I'm not the type to jump out of my chair when it comes to for AGI retirement planning. But in this case it is offsetting high bracket income.
Are you already itemized and past the 2% floor? This could be a good year to load up necessary business expenses.
Did you pay the State???? If you're the type of person who doesn't pay their State taxes until the following year, think twice… State taxes paid are Deductible!!!! Actually if you overpaid the State it would probably help even more. Just make sure they have the check by Dec 31. Recapture will be in a lower tax bracket – never mind the time savings.
Married? Engaged? Not that this is a SOLE reason to tie the knot, but depending on respective earnings it could certainly lessen the blow.
Got Kids? Want some? I know this sounds off the wall. But perhaps your sister, brother, uncle, or girlfriend who has been living with you brought a few bundles of joy along as room mates. Point being, you might meet all requirements to claim the kids (and relatives for that matter)… If you do, this certainly would be a good year to investigate this.
Do you own a rental property or other passive interest with suspended losses? This might be a good year to sell. When $$$ is too high we have to wait until complete disposition to put the suspended losses on the books. A superheated tax return may be enough of a straw to break that camels back.
What doesn't help?
Less helpful approaches -
Medical expenses – with a 7.5% floor, you're most likely not going to be able to recognize any deduction whatsoever.
Partnership and trust hedging… Depending on the bottom line this may or may not be effective. Fact is that as income increases we lose the ability to deduct passive losses. You may well be having suspended losses carrying over to a year when your income and tax bracket are lower. Many of these half cocked ideas come from substance. The problem is that the income has to be within the entity (the books are balanced within the trust, partnership, s-corp, etc….) Otherwise there are too many roadblocks.
And many more – You really need to examine these instances on a case by case basis
You won $1,000,000 +
It does happen! Several clients have won large lump sums… Several have also taken out structured payments (annuities)
Things to remember -
Liability protection – with this type of income, a trip to a decent estate planner is warranted. People tend to slip in fall in a millionaires driveway more often than normally. Specific trust and estate planning may shield you from severe liability down the road.
Married? Be warned… As the lottery cash payouts exceed the five million mark the percentage of couples who REMAIN married exponentially approaches zero. Wives initiate divorce proceedings on a 2 to 1 ratio.
Debating between a lump sum and cash payout? Throw this onto the fire. That annual payment would be considered part of your estate for medicaid purposes. Meaning 20 years from now, the State will take it. I've worked with several clients who had their annuities purchased at a large loss.
Beware of the propositions… Many companies will pitch you with various tax schemes stating they can substantially reduce your overall liability. These normally turn out to be bogus. The IRS doesn't care… They will keep you on the hook for the balance due, interest and penalties….
I won a prize?
I had a client who won a lamborghini several years back. Problem is he still doesn't have it. He won it in Vegas and was required to prepay the taxes before receiving the prize.
Remember you can offset these winnings with eligible gambling losses
Unless this prize is something you would have purchased regardless, consider a buyout option. You will be paying taxes on the retail version. You may well be better off with an addition on the house as opposed to a helicopter.
Recordkeeping -
We all know about keeping receipts. Gamblers are also permitted to log their gambling activity to account for losses. Keep in mind that these logs are not given Cohen rule leeway and have been historically been scrutinized with a fine tooth comb. Make sure your logs are properly documented according to standards.
Professional Gambler
A possibility. Advantages? You're able to offset losses above the line on a Schedule C (not subject to limitations). You have to meet profit and business standards. You're not a pro just because you dropped $20,000 in the casino.
Always keep in mind that the regs change daily. We usually don't want to think about collateral effects when we have a big win. It's certainly worth investigating your options – before December 31… After that – all bets are off…